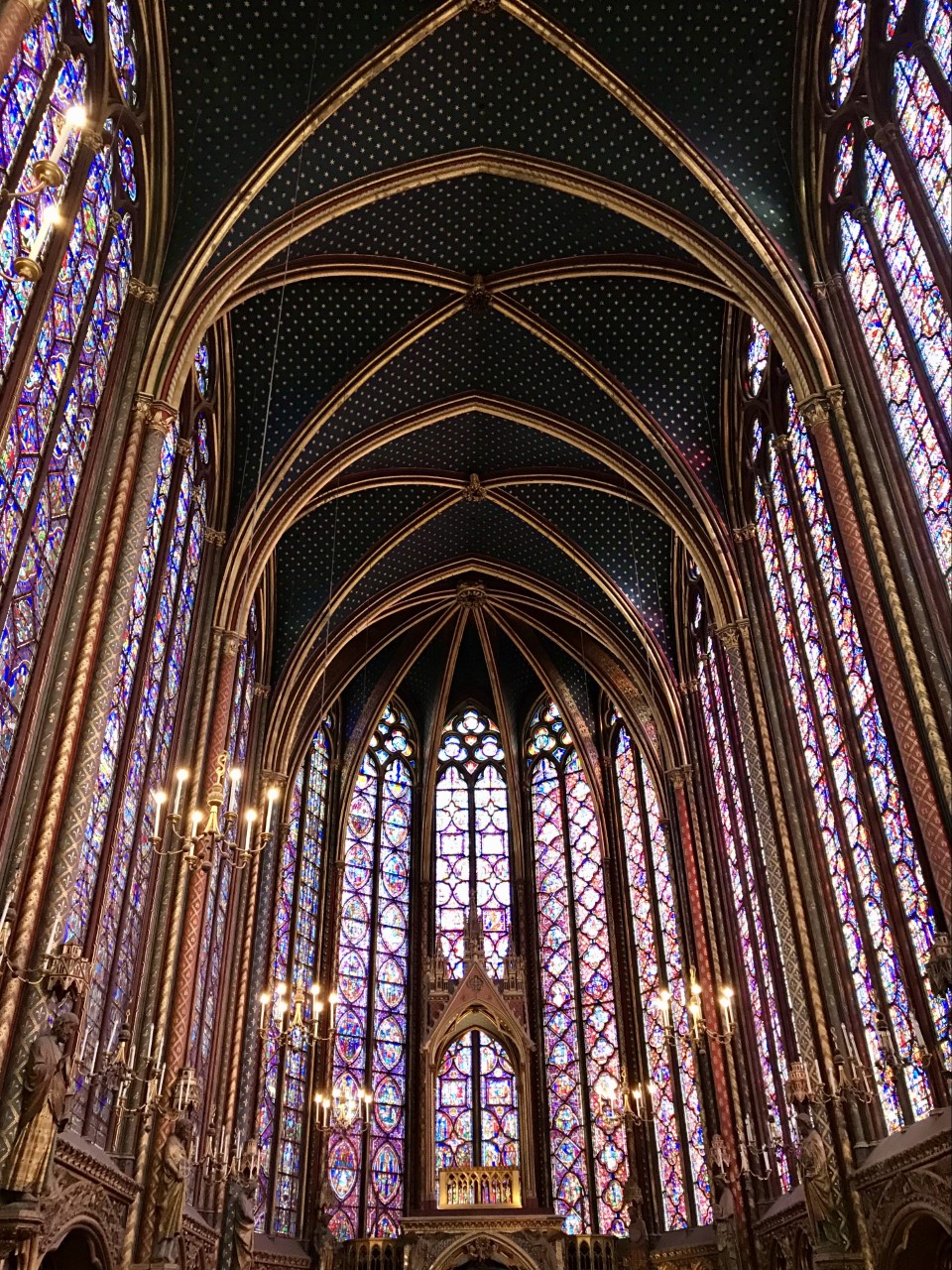 Have you ever walked into a room and literally had your breath taken from you? The shear beauty and atmosphere provided a sensory overload that you just froze until you could regain your composure? Like you were no where near prepared for what you were about to see? I present to you my experience at Sainte-Chapelle in Paris. 
The first time I ever visited Paris, I was giddy with excitement.  I was going for work so I really only had a couple of nights and the weekend to experience as much as I could.  To make matters worse, I was going with my new coworker.  Now we are really great friends, but at the time we had never even met. I was nervous that our vision of "free time" wasn't going to align and I would have to figure out a way to ditch him.  Thank goodness, this didn't happen.    
We both took to compiling the longest "to-do" list imaginable.  He had his "musts" and I had mine. I started compiling mine by asking around to everyone I knew, then I narrowed down the list from there.  After that we negotiated.  One thing that almost DID NOT make the list: Sainte-Chapelle.  
"The shear beauty and atmosphere provided a sensory overload
"
During the weekend, we briefly saw the Eiffel Tower, the Louvre, Sacre-Coeur, Musee d'Orsay, Arc de Triomphe, and Notre-Dame.  Needless to say, the first time I saw all of these things, it was rushed.  At the end of the weekend, the only thing left on the list was Sainte-Chapelle.  My feet hurt, I was hungry (which obviously means grumpy), and exhausted but it was literally the next street over so I reluctantly agreed to make one last stop.  
We walked in and well…it was underwhelming.  The lower chapel is quite small and quaint. We had already visited Sacre-Coeur and Notre-Dame, so I was really trying to hold back a "see, just another old church".  My initial thoughts: why did I stand in line for this?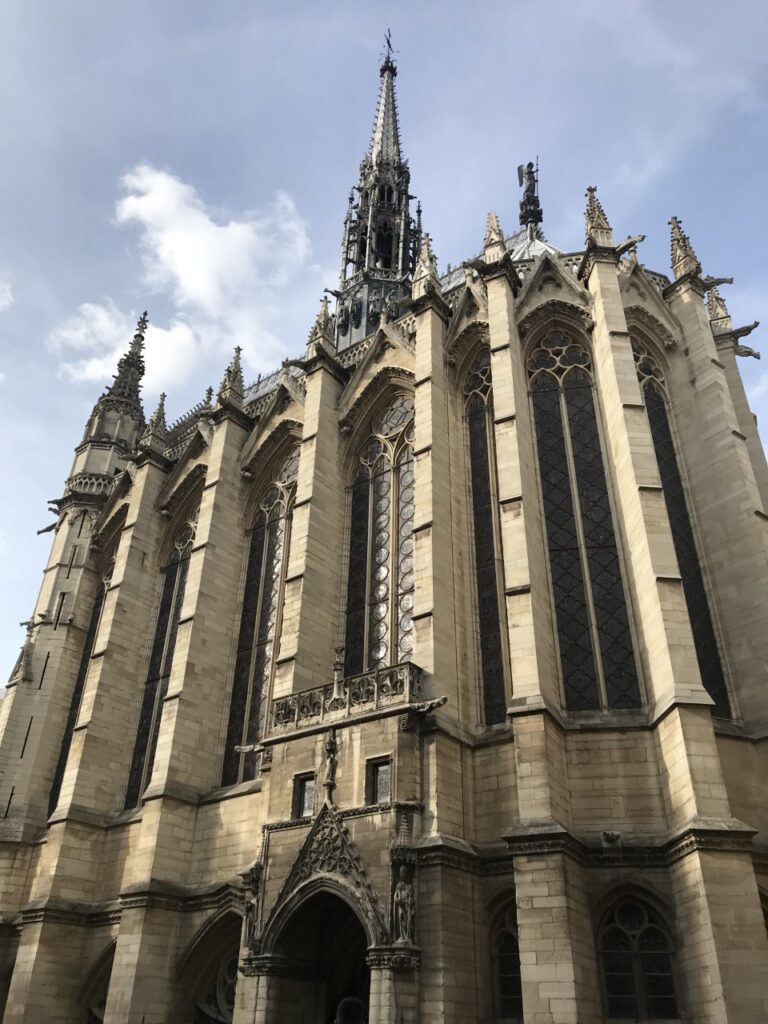 Exterior of Sainte-Chapelle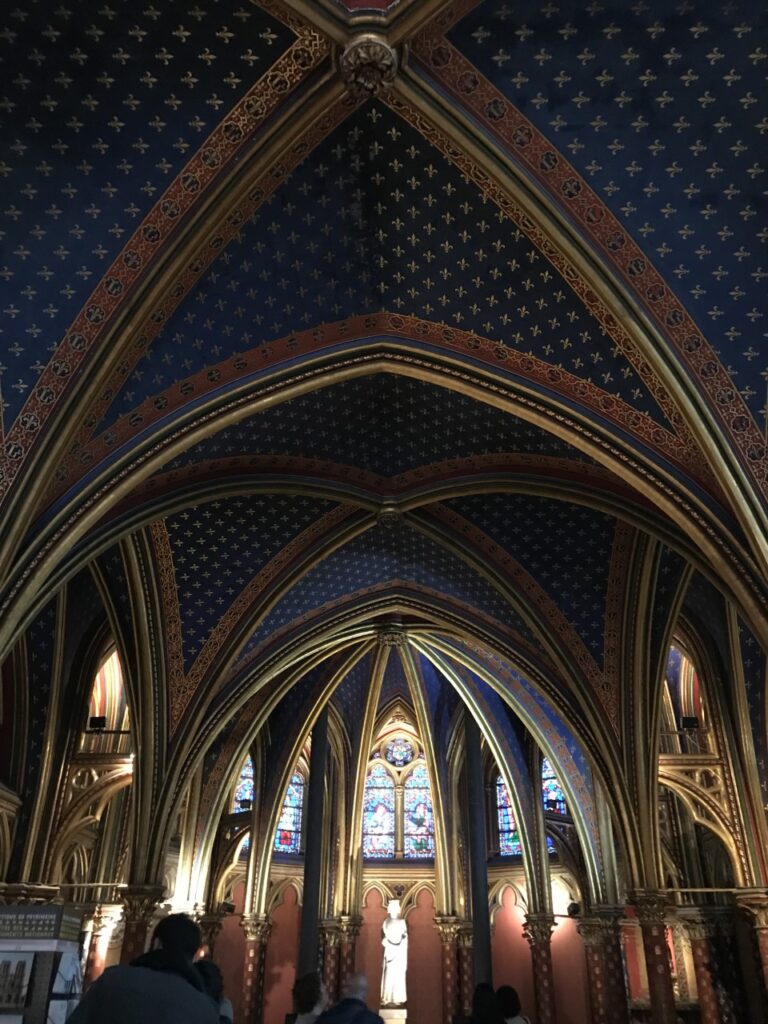 After we strolled for a minute, I saw someone come out of a stairway.  Obviously, there had to be more…right? Maybe I didn't waste what little time I had left?   
Let me just pause here and say: I was ignorant.  I had no idea this beauty existed and obviously did not do enough research at the time since I was mainly travelling for work.  Very rarely do I say this but…I was wrong.  It was/is not "just another old church".  No fiber of my being has ever experienced something of this magnitude.  
The room is almost 100% stained glass, contains panels that stretch over 50 feet tall, and capable of bringing tears to your eyes.  Everywhere you look is another color, another shape, and another story – literally.  The windows are numbered from 1 to 15 and are "read" from left to right and bottom to top.  1,113 stories are depicted from both the Old and New Testament.  
The windows cover just shy of 6900 square feet of intricate stained glass. Amazingly, 70% of the glass is original and dates between 1242 and 1248. 
Dare I say: if you only had time to do one single thing in Paris…this should be it.
To this day, I still dream of Sainte-Chapelle.  I think I am still a bit speechless honestly. 
It has been one of my best memories and one of my favorite locations.  I could spend hours looking at all the depictions and am looking forward to the next time I visit. 
I hope one day you can see this for yourself. Happy Travelling